Overview
Mr M. Price - Director of Music                     
---
Experience – Enjoy – Excel   
Music has an important role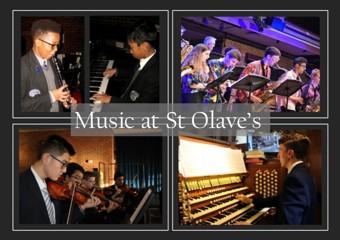 to play in the life of students at St. Olave's.  Whether it be through assemblies, Chapel services, concerts and productions, House competitions or the curriculum, in one form or another, music features daily.
The Music curriculum revolves around the fundamental skills of performing, improvising, composing, listening and analysis and this operates across all three key stages.  Each project in our scheme of assessment focuses on at least one of these skills.
At Key Stage 3, students establish a solid grounding in practical, creative, historical and theoretical disciplines.  This provides the necessary foundations for pursuing the subject at GCSE and subsequently A-level.  Those who already have wider experience of playing instruments, singing lessons or ensemble performance are encouraged to use their particular talents to extend their work in the classroom. 
In support of students' broader development as musicians and well-rounded individuals, a far-reaching programme of choirs and instrumental ensembles exists alongside what takes place in the classroom.  The regular schedule comprises weekly rehearsals, usually leading to one of the various showcases in the busy calendar.  Between the curricular and extra-curricular programmes, our aim is for our students to have engaging musical experiences, which will encourage a lasting enjoyment of music beyond their time at St. Olave's.
The following links provide further information:
---
Music Curriculum Summaries
Assessment Process
Assessment and Feedback Process - Years 7 - 13
---
Wider reading suggestions for our Music students
Page Gallery
Return to all subjects