Overview
Mr A. Lake - Head of Religious Studies
---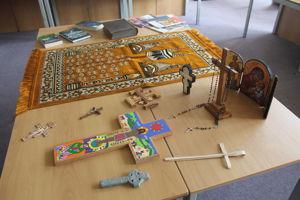 Religious Studies addresses some of humanity's oldest questions and the driving forces behind human behaviour and society.  It involves the study of a colourful patchwork of stories, traditions, histories and rituals. 
It develops students' ability to see things through the eyes of another and to step outside of their own presuppositions.  More than anything, Religious Studies involves the study of ideas.  In this respect, it is a subject that involves analytical and evaluative thinking skills in perhaps their purest form.  The very idea of God is in itself an idea about a concept that is at once completely simple and infinitely incomprehensible.  These are ideas about which agreement may be impossible, and yet strongly held views on them motivate people to act the most remarkable ways.  Ordinary people are provoked by religion both to the most inspirational compassion and the most bewildering cruelty.  Indeed, so powerful is the impact of the ancient ideas of religion that a full understanding of the modern world is impossible without them.
The Religious Studies Department at St. Olave's does not seek to convert pupils, but to equip them to engage with questions of ultimate meaning, God and humanity in a considered and thoughtful manner.  In their written work, students are expected to justify their views and to consider their responses carefully.  In debate and discussion, students are encouraged to listen to the views of others, to contribute and to reflect on their own views.  It is our aim that a student of Religious Studies should grow in maturity through a process of discussion and reflection, ultimately to move beyond knee-jerk assertions and off-the-cuff responses and replace them with careful arguments based on critical reflection.
The following links provide further information:
Religious Studies Curriculum Summaries
Assessment Process
Assessment and Feedback Process - Years 7 - 13
---
Wider reading suggestions for Religious Studies Students
KS3, KS4, KS5 Suggested Reading for Religion, Philosophy & Ethics
Return to all subjects