Overview
Mrs R. Zeshan - Head of Computer Science
---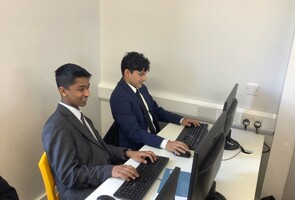 The increasing use of technology in all aspects of society makes the confident, creative and productive use of computing an essential skill for life. Computing capability encompasses not only the mastery of technical skills and techniques, but also the understanding to apply these skills purposefully, safely and responsibly in learning and in everyday life and employment. Understanding how computers impact our everyday lives has now become a pre-requisite for participation and engagement in modern society. With a knowledge and understanding of computing pupils are empowered and motivated to take on the challenges of a technological age.
Computer Science can be used to find, develop, analyse and present information, as well as to model situations and solve problems.  Computing enables rapid access to ideas and experiences from a wide range of people, communities and cultures, and allows pupils to collaborate and exchange information on a wider scale.
In Computing students learn a range of knowledge and skills including computer systems, data structures, algorithms, programming, networks and communications systems in the modern world, using the latest technology and the Internet. They develop and apply their analytic, problem solving, design and computational thinking creativity. They also explore important elements of how to make use of ICT safely and responsibly and able to use, and express themselves and develop their ideas through, information and communication technology – at a level suitable for the future workplace and as active participants in a digital world.
Email: Head of Computer Science 
The following links provide further information:
---
Computer Science Curriculum Summaries
Assessment Process
Assessment and Feedback Process - Years 7 - 13
---
Wider reading suggestions for Computer Science Students
Page Gallery
Return to all subjects